The Red Eye Guys: Daniel Nardicio, Taylor Shubert, Adam Klesh and Sam Benedict are excited to bring you
ICE PALACE 23
The new, improved reimagining of the famed and longest continually-running LGBTQIA+ nightclub in the world.
With their Saturday night dance party Legacy Saturday Nights, the return of the famed Icon Series, all-new Tuesday Queen, Whip it Out Wednesdays, Scissor Sisters frontwoman Ana Matronic's Love Unlimited Tea Dance, Thursday's Dive In Movie Theater right after Thursday Night Musicals, and Monday nights featuring beloved queens including Nina West, Peppermint, Blair St Clair, Nicky Doll and special Golden Girlz live with Sherry Vine, Jackie Beat, Sam Pancake and Drew Droege the Ice Palace will be the coolest spot on the island and the hottest ticket in town.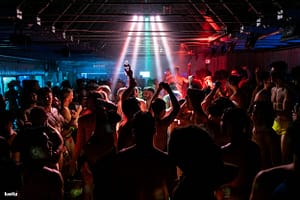 As Joel Kim Booster said in the 2022 film Fire Island, "no weekend on Fire Island would be complete if you didn't make an appearance at the Underwear Party. It's the one party where everyone is invited." Now in its 20th year, the Dworld Underwear Party features resident DJs Johnny Dynell and Corey Craig, and is now Fire Island's largest weekend event and longest-running party. It is THE party that inspired copycats in Key West, Fort Lauderdale and Provincetown, as well as numerous copies that go down in the Big Apple. There is only ONE original, which is why Fleshbot called it the ""greatest weekly event in the world."
This year sees the reinvention of beloved institution the Miss Fire Island Pageant. In 2023 it will be bigger, better and more celeb-packed than ever before. With special guest host Bianca Del Rio, the celebration of all things drag has been moved to Saturday September 2 so it won't compete with Drag Con and Bushwig, and will allow everyone to be a part of this pageant in it's 57th year.
And if that isn't enough, Nardicio's legendary Icon Series is back! Audiences will get close to some of their favorite stars of song and dance including Marilyn Maye and Chita Rivera as she celebrates her 70th year in show business. In past years Nardicio has brought out Liza Minnelli, Carol Channing, Lynda Carter, Alan Cumming, John Waters, Margaret Cho, Sandra Bernhard, Lea Delaria and many many more.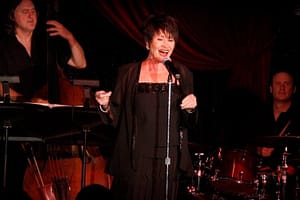 The Broadway Sings concert series, which the New York Times called "sheer brilliance" has been reimagining, rearranging and re-orchestrating the tunes of pop superstars since 2012, and will be gracing the stage at the Ice Place twice this summer. Want more Broadway? The season will also feature a special residency of New York City's hit drunken parody show Drunk Musicals. 
Plus, get ready for the return of the Pool Show with "Heart of the Ice Palace" Ariel Sinclair and dancing diva Brenda Dharling on Saturdays and Sundays.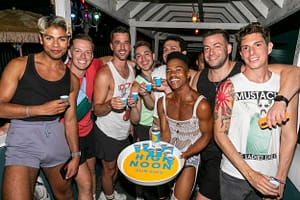 Dog Lovers! Daniel Nardicio (often seen on the boardwalks with his pups Tabasco and Beau) will be hosting Yappy Hour on Tuesdays and Thursdays from 4 pm – 6 pm where you can put your pooch in our outdoor playpen with kiddie pool, relax with friends and enjoy one of our signature espresso inspired cocktails while your pup gets to play with your neighbors' pets. Nardicio held them at his former nightspot Club Cumming, and they were, as he called them, a "yappening!"
Wednesdays for sunset we bring you Wine and She's designed for discerning palettes and delicate sensibilities. This weekly wind-down will offer wine tastings from local Long Island wineries, curated gourmet cheeses and live music with a more adult, sophisticated setting. Join the Ice Palace Team for a Building the Board event Saturday, April 29 from 5pm – 9pm when they hold a wine and food tasting from gay-owned and operated McCall Wines (North Fork, Long Island) to choose this season's wines, meats and cheeses for Summer 2023 charcuterie. Music by The Dulcetones.
The Ice Palace is where modern day DJ culture was born and cultivated, so DN and crew have brought on famed sound designer Austin Derek to restore the sound, and Saturday nights the Ice Palace takes back its place as THE place to go dancing with its new Legacy Saturday Nights. Red Eye Guys partner Adam Klesh is spearheading this movement to bring you the world's best DJs: The Carry Nation, Shaun J. Wright, Crush Club, Alexis Tucci, Conner Curnick, and Danny Krivit, just to name a few.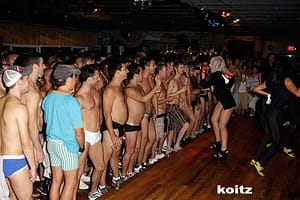 If you like to put a little Donna in your Summer, then get ready for Sunday afternoon. The Ice Palace stands on the site of Fire Island's first tea dances, held at Duffy's and before that, Perkinson's Inn & Hotel. In the 1970s, Michael Fesco brought drag queens and a glamorous silver tea service to the afternoon tradition, and it's coming back in full force in 2023. On Sundays our resident historian and "Palace Priestess" Ana Matronic presents Love Unlimited Tea from 4pm-8pm, spinning classic sounds from disco's golden age to seal the weekend with a kiss. Love is the message, after all!  
And if that wasn't enough, September 15-17 Parker Sargent, Kay Davis and the Ice Palace in association with the Friedman Transgender Program bring you the first ever Cherry Grove Trans Weekend celebrating Trans Excellence with shows, parties, panel discussions and more.
This season will see greater convenience for partygoers with many more options to travel back and forth between the Pines and Grove, and from the mainland using The Cross Bay Zipper, Fire Island Water Taxi, Sayville Ferry Service, and The H20 Limo. Getting to the party has never been easier! Want more info? Contact us here!